Meet Dr. Brandon Johns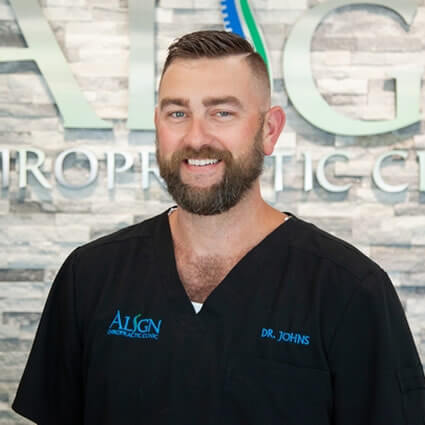 Originally from Arkansas, Dr. Johns didn't grow up with the dream of being a chiropractor. He worked as a welder for a number of years, building air conditioning systems for schools and hospitals, before injuring his shoulder in a motorcycle accident.
Unable to afford surgery, he sought chiropractic care, which successfully treated his shoulder. His personal results are what inspired him to become a chiropractor: he wanted to help others experience that same joy of getting better without drugs or surgery.
Chiropractic Education
Dr. Johns and his wife moved from Arkansas to Kansas City, where he attended Cleveland Chiropractic College. He graduated with his Doctor of Chiropractic in December 2013. After graduation, they were looking for someplace different from Arkansas – but not quite as much of a city as Kansas City! Jefferson City was a perfect compromise, and Align Chiropractic Clinic opened in the spring of 2014.
Our practice works with several gyms, teams and schools to provide care to their athletes.
Additional Training
A recreational athlete himself, Dr. Johns was initially drawn toward treating athletes. His techniques include soft tissue work and rehab, to help provide the best overall care possible for our patients. He has advanced training in
Dynamic Neuromuscular Stabilization (DNS)
Graston
FAKTR (Functional and Kinetic Treatment with Rehab)
Active release-type techniques
Dry needling
RockTape®
After seven years in practice, Dr. Johns' initial sports focus has expanded to providing care to everyone. The techniques he uses for athletes achieve the same healing and wellness results for anybody, of any age or fitness level. And Dr. Johns finds it rewarding to help people regain their health so they can pursue whatever their interests may be.
EXPLORE OUR SERVICES
Schedule Today
Dr. Johns' own interests include doing anything outdoors, especially with his family. He enjoys hiking, hunting and fishing, and you can often find him playing softball. He and his family live on a farm, and they enjoy spending time with their goats and 40 chickens!
If you're ready to get back to doing your favorite activities, contact us today to schedule your first appointment.


Dr. Brandon Johns | Align Chiropractic Clinic