Auto Accident Care in Jefferson City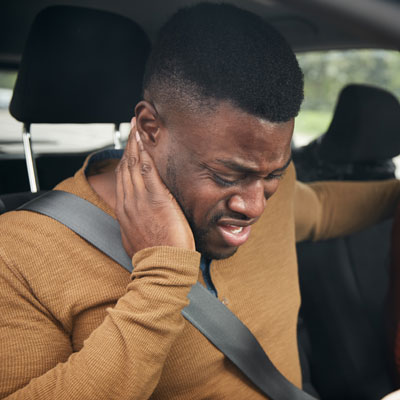 Many people think that if there's no visible damage to their car after an accident, their body must be okay too. But that's not usually true! In fact, modern cars are designed to withstand significant impact with minimal deformation—but your body absorbs all the force of that impact, with nothing to protect it.
The types of soft tissue injuries sustained in auto accidents are typically traumatic, with significant damage to ligaments and muscles that can create extreme tightness, referred pain, headaches or migraines. Many times, symptoms don't appear immediately, and by the time they show up, scar tissue is already forming.
The longer you go without addressing car crash injuries, the more difficult they become to correct. Left unaddressed, these types of injuries can lead to long-term pain issues that can only be managed, not corrected.
Our Comprehensive Approach
At Align Chiropractic Clinic, we offer a range of chiropractic adjusting techniques and soft-tissue therapies to provide a whole-body approach to injury recovery. Your chiropractor will do a thorough examination, and may refer out for X-rays or MRIs as needed. With a clear understanding of your injuries, they will design a care plan tailored to your needs.
Chiropractic adjustments help to restore alignment and motion to the joints of the spine and extremities. Soft tissue therapies such as FAKTR (Functional and Kinetic Treatment with Rehab), Dynamic Neuromuscular Stabilization (DNS), Graston, Active Release-style methods and dry needling may be used to address muscle sprains/strains and ligament damage.
For many patients, we may recommend cryotherapy as part of your care plan. This therapy helps reduce inflammation and promotes tissue healing. For patients with disc herniations, spinal decompression therapy may also be part of your healing process.
Don't Wait—Get Care Today
If you've been injured in a car accident, the sooner you seek care, the quicker and more completely your body can heal. We work with your insurance to ensure you get the care you need when you need it.
Contact us today to book your initial consultation.
CONTACT US

Auto Accident Care Jefferson City MO | (573) 635-4747