Meet Marlie Gillis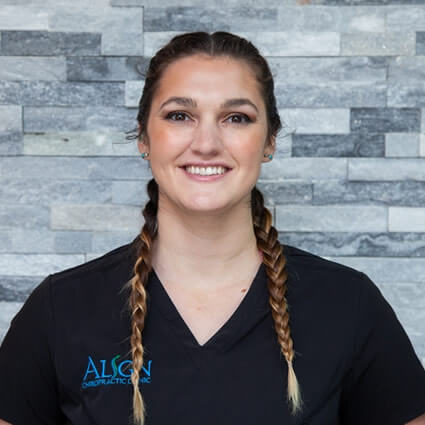 I love helping people stay happy and healthy throughout their entire life. My favorite part of an adjustment is the look on people's faces following the procedures. Seeing their look of shock, joy, excitement and hope truly brings me joy.
Following in Her Mother's Footsteps
Marlie attended Palmer College of Chiropractic, which was an honor for her, as that's her mother's alma mater too. She also enjoyed studying at Palmer at the same time as her sister and her sister's husband. "It was an amazing experience to attend college with my family!"
A Compassionate Chiropractic Care Provider
While growing up alongside her chiropractor mother, Marlie realized how many people her mom helped by using drug-free treatment. Now that she's a chiropractor, She is passionate about assisting her patients as her mother has for many years. Kind and caring, She takes the time to listen to her patients and provide customized and effective care.
Offering an Array of Techniques
Marlie is able to provide patients with many chiropractic adjustment methods. She is proficient in Flexion Distraction, Activator Methods®, and Gonstead. She also has over 100 hours of experience shadowing an occupational therapist working with special needs children.
EXPLORE OUR SERVICES
Enjoying an Active Lifestyle
When she's not at the practice, Marlie enjoys being on the water, either paddle boarding or swimming. She especially loves taking long walks with her Shih Tzu Chihuahua puppy. She is also a big fan of the Hawkeyes wrestling team.
Family is also paramount to Marlie, who has three sisters and one brother. "My father is a retired army veteran who raised all five of us kids. This upbringing instilled in me leadership qualities as well as being driven and hardworking."
Currently, Marlie lives in Jefferson City with her petite pooch.
Book an Appointment
Contact us today to schedule an appointment!

Marlie Gillis | (573) 635-4747