Meet Dr. Miranda Warmann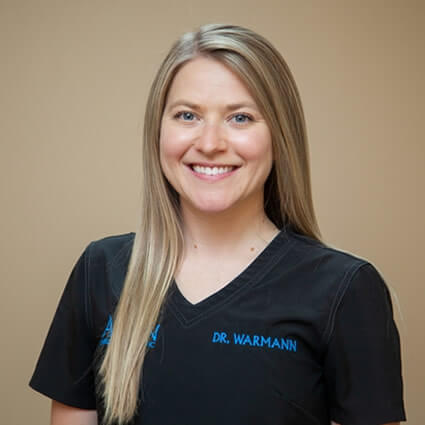 What I love most about being a chiropractor is that every day I use a natural form of treatment to help people achieve their goals and live a pain-free life.
When patients meet Dr. Warmann they can tell although she's petite, she's mighty. Dr. Warmann provides effective chiropractic care that gets great results!
Experiencing the Natural Effects of Chiropractic
Dr. Warmann always knew she wanted to work in a field that would allow her to help people. When she was younger she suffered from chronic headaches. After she exhausted all her options, she went to see a chiropractor who helped her significantly. "I fell in love with the idea that I could make a difference in people's lives in a way that didn't involve invasive procedures or medications."
Chiropractic Education & Training
Dr. Warmann earned her Doctor of Chiropractic from Logan University. She recalls a favorite professor who always taught complicated material; then he asked the class, "Who cares?" He made an enormous impact on Dr. Warmann. "His point was always you'll never know everything and you should always keep learning!"
In addition to earning her doctorate, Dr. Warmann has special training in pediatrics and pregnancy. She completed a clinical rotation in school in the pediatric clinic. Dr. Warmann also worked in a sports-oriented clinic throughout chiropractic college, which allowed her to see what she was learning live. Additionally, she completed a clinical rotation where she worked with stroke victims and those who were paraplegic or quadriplegic.
EXPLORE OUR SERVICES
Outside the Practice
In her spare time, Dr. Warmann loves to be outside in the sun, running, playing with her dog or spending time with her massive family. She also enjoys a good romance novel.
Dr. Warmann has three brothers and has gained a sister-in-law and a niece. "My husband and I just got married in April and we are looking forward to growing our family in a few years. Currently, we just adore our four-legged baby!"
Book an Appointment
Contact us today to schedule an appointment with Dr. Warmann!

Dr. Miranda Warmann | (573) 635-4747