Meet Dr. Julie Motte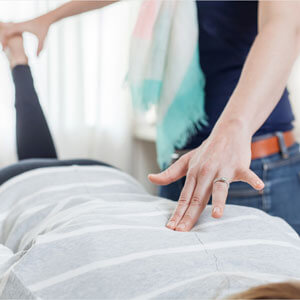 Growing up, Dr. Julie always knew she wanted to do something in the medical field, but wasn't sure what path to take. She was fascinated by science and earned her undergrad from Mississippi State in biological sciences with a pre-med concentration.
Deciding on Chiropractic
Dr. Julie shadowed some classes at a medical school and took the MCAT, and realized that wasn't the route she felt led to go in. "I was considering nursing, PT, and other fields. Then one day I was talking to my uncle, and he mentioned looking into chiropractic." Dr. Julie found out from him that chiropractic saved his life following a 30-foot fall.
He broke his back in a few places and subsequently had surgeries and was given opioids. Dr. Julie's uncle was in severe pain and went to a chiropractor in her hometown. After the first three visits, her uncle was feeling better and able to get off opioids.
After hearing the incredible results he got, Dr. Julie decided to shadow the chiropractor her uncle went to. She liked the hands-on healing aspect of chiropractic and decided to apply to chiropractic college.
Education and Certification
Dr. Julie earned her Doctor of Chiropractic from Logan University in Chesterfield, MO. She is also certified in McKenzie A, which is a method that focuses on the low back.
Helping Patients With Natural Care
Dr. Julie finds it fulfilling to help patients of all ages enjoy optimal health and get natural relief.
I love having the ability to help patients and keep them from having surgery that often has a long recovery time and does not produce long-term results.
She also has experience in pediatric and pregnancy chiropractic, and has a particular interest in helping kids and moms-to-be.
EXPLORE OUR SERVICES
Planting Roots in Jefferson City
After graduating from Logan in December 2021, Dr. Julie had been looking at different places to work. She and her husband, whom she met at Logan, wanted to stay in Missouri. They liked this area and decided it would be a good place for them to settle down and raise a family.
Outside the Practice
When she's not working, Dr. Julie enjoys reading for fun, now that she's out of school! She and her husband have two dogs that love being outdoors. Hiking and taking their dogs to local parks are some of her favorite things to do.
Book an Appointment
Contact us today to schedule an appointment with Dr. Julie.


Dr. Julie Motte | (573) 635-4747