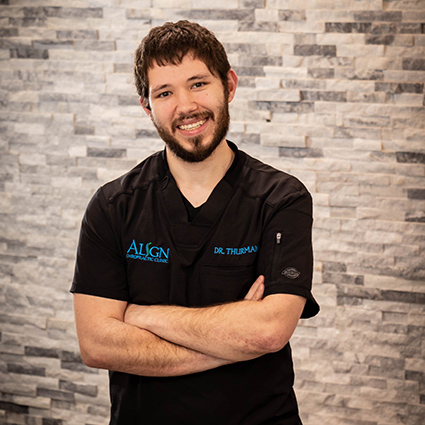 Meet Dr. Dalton Thurman
Dr. Thurman grew up in Macon, Missouri as the son of a chiropractor who's been practicing since the early 80s. Dr. Thurman saw from a young age how much of a difference this form of natural care made in the lives of his father's patients, and decided to follow in his dad's footsteps and become a chiropractor.
Education
After receiving his Bachelor's in Life Science from Logan University, Dr. Thurman then also earned his Doctor of Chiropractic from Logan University in 2020.
Forging Connections
Dr. Thurman is delighted to be part of the Align Chiropractic Clinic team. He looks forward to getting to know patients, connecting with them on a personal and healthcare level, and making a difference in their lives.
Chiropractic has always made a difference for me, and I want to help people as I've been helped over the years.
Whether he's caring for children, seniors, or all ages and stages in between, Dr. Thurman provides customized chiropractic care that gets great results for his patients.
In His Spare Time
When he's not at the practice, Dr. Thurman enjoys spending time with his fiance and his dogs. His other favorite activities include spending time on his farm hunting, fishing, and brush hogging.
Book an Appointment
Discover how fantastic you can feel with chiropractic care. Contact us today to book an appointment with Dr. Thurman!

Dr. Dalton Thurman | Align Chiropractic Clinic